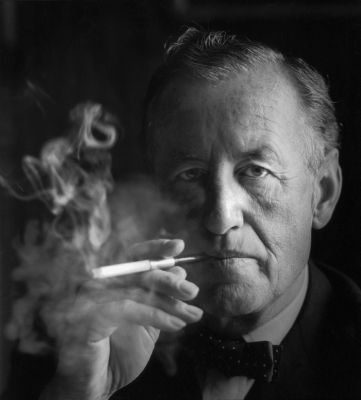 it was like nothing i'd ever before experienced. i started out with
from russia with love
, not knowing that the books are in a series, but it was really an adventure. fleming's writing is crisp, reflective of his journalistic heritage, which makes it exciting and page-turning. (though after reading many of the books, i've found his writing to be confusing, in that i don't really get what's transpiring). i think my brother read fleming long before i did, cuz after i read
frwl
, i found a copy of it in his room.
but, the bond books are really unlike anything i've experienced. i still remember the image of the train in that first book, the spectacular character of the turk - one of the most amazing characters i've ever seen, he was hilarious and hulking and strange and cruel but kind. how diverse are fleming's settings and characters and events. how queer and curious are the characters, and how wonderfully does he investigate them (bond doesn't even show up till halfway through
frwl
). 'how does he come up with this stuff!' is a refrain that repeats in my head every time i read one of his books. (of course, fleming used to have to come up with unbelievable situations as part of his job at the secret service). what obscure situations bond finds himself in, what
mind-blasting
lines and comments! mostly all would now be considered racist and misogynistic. which is true, regarding the racism (the first time i read the word 'negress' was in
live and let die
, though that was prolly not racist back then
)
.
but i like the freedom with which he expresses those thoughts, unobscured by convention and concern, especially regarding his attitude towards women. they are always strong but delicate, waiting to be saved. they behave and speak like innocent little girls, and fall completely in love with bond (like the strange strange tale of honey rider in
dr no
), except for gala brand in
moonraker
, the one girl he doesn't sleep with.
in
frwl
, i remember the vivid, savage battle between two women for bond's affections, around a campfire with the community watching. i remember the woman that kerim the turk told bond he had had to chain under a table, starving her body in order to break her spirit so she would submit to him sexually. 'women were for recreation,' bond reflects in
casino
royale
, the first of the series. 'on the job, they got in the way and fogged things up with sex and hurt feelings and all the emotional baggage they carried around.' when they first meet, vesper lynd (
cr
) looks at him 'with a touch of ironical disinterest which, to his annoyance, he found he would like to shatter, roughly.' at one point in
casino royale
bond 'wondered about vesper's morals. He wanted her cold and arrogant body. He wanted to see tears and desire in her remote blue eyes and to take the ropes of her black hair in his hands and bend her long body back under his.' it's vivid.
matt damon said that
'bond is an imperialist, misogynist sociopath who goes around bedding women and swilling martinis and killing people. he's repulsiv
e.
' but i think jason bourne is boring. so boring that i don't even remember any dialogue from that character, or any expression on his face in any of his three movies. bond is alluring and engrossing and quickening. he is full of a controlled passion, which comes across in what is called 'the fleming sweep', in which fleming tells us about bond's likes and dislikes in travel, clothing, food and wine, luxury items, referring to specific brand names, pre-dating modern chick lit in that arena.
bond is meticulous in everything he does. he has few personal interests, he plans his time perfectly. he is a cold person, to be sure, and unlike the bond of the films, he rarely makes jokes. he loves food, all of the books have lengthy descriptions of well-thought out meals that he decides to order and eat slowly: 'when in London, bond maintains a simple routine. sitting down to
The Times
, he breakfasts on two large cups of very strong coffee, from De Bry in New Oxford Street, brewed in an American Chemex and an egg served in a dark blue egg cup with a gold ring round the top, boiled for three and a third minutes. There is also wholewheat toast, Jersey butter and a choice of Tiptree 'Little Scarlet' strawberry jam, Cooper's Vintage Oxford marmalade and Norwegen Heather Honey from Fortnum and Mason, served on blue Minton china. Breakfast is prepared by May, his Scottish housekeeper, whose friend supplies the speckled brown eggs from French Marans hens.' he loves his different bentleys (
read more
): 'bond's car was his only personal hobby. one of the last
of the 4,5 litre bentleys with the supercharger by amherst villiers, he had bought it almost new in 1933 [...] bond drove it hard and well and with an almost sensual pleasure. it was a battleship-grey convertible coupe, which really did convert and it was capable of touring at ninety with thirty miles an hour in reserve.' he loves smoking: specifically a blend of balkan and turkish tobacco with a higher than average tar content specially ordered from morland's of grosvenor street, made with three gold bands on the filter signifying his (and fleming's) commander rank in the secret service; he holds them in a trademarked monogrammed gunmetal case and lights them with his battered black oxidised ronson lighter.
the bond books are unlike anything i had ever experienced. bond was a fascinating character, made more fascinating by how similar fleming was to his creation: he loved jamaica, made a house there (called goldeneye), used to go diving every morning, play cards at night with friends, come home with women. while they loved cards (
casino royale, dr no
, are full of chapters of descri
ptions of card-playing), i don't think bond or fleming loved women. the real bond was a careless philanderer, a little like connery and a little like craig. but, in a
way, what the bond character has really come to represent is a love for women. the new release of the bond books shows this clearly, (a
n article on the covers of the different series
) as all the covers are pictures of the female characters:
see here
. i really like this series, which is brand new, but i quite love the coldness of the penguin modern classics series (
see here
), and i think my brother does too. in many ways, the character of bond and the life of fleming have affected me deeply.